Join us at ICMI's Contact Center Demo, November 12-14, 2018 at the Red Rock Resort in Las Vegas, NV!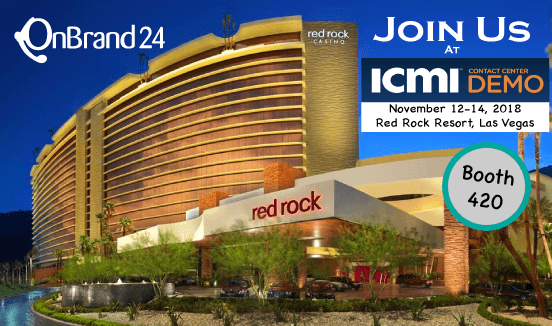 ICMI Contact Center Demo Description
From the conference website, here is a brief description of what to expect from the event. As an organization's contact center increases in importance, so does the pressure to improve customer and employee engagement, elevate satisfaction, utilize data better, and deliver results on the mission and bottom line. ICMI Contact Center Demo empowers professionals with the knowledge, tools, and resources to achieve and exceed today's expectations, as well as the future expectations of their contact centers.
About ICMI
The The International Customer Management Institute (ICMI) is the leading provider of comprehensive resources for global customer management professionals who wish to improve customer experiences and increase efficiencies at every level of the contact center, from frontline agents to executives. As the voice of the contact center profession, ICMI has helped more than 50,000 organizations in 167 countries through training, events, consulting, and informational resources since 1985. ICMI's experienced and dedicated team of industry insiders, trainers, and consultants are committed to helping you raise the strategic value of your contact center, optimize your operations and improve your customer service.
ICMI is organized by UBM, which in June 2018 combined with Informa PLC to become a leading B2B information services group and the largest B2B Events organizer in the world.