Come join us at this year's Contact Center Demo, September 25-27 at the Mandalay Bay North Convention Center in Las Vegas, NV and be sure to stop by Booth # 627!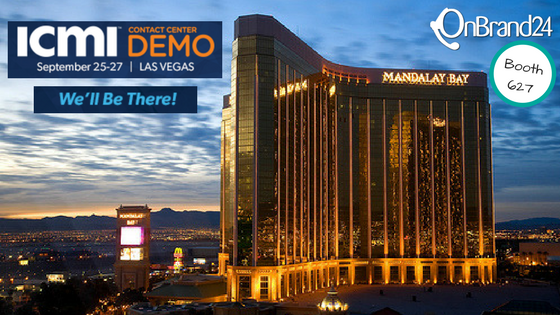 ICMI Contact Center Demo Description
Per the conference website the Contact Center Demo is produced by ICMI, a trusted source for contact center knowledge and education for 30+ years, Contact Center Demo is the leading fall event for customer care professionals. Attracting contact center professionals representing organizations of all sizes and in a variety of industries, this event has a strong reputation for providing immediately actionable, product-neutral education delivered by sought-after speakers who are the best in the business. The robust 3-day program features dynamic keynote speakers, thought-provoking main sessions, interactive workshops, invaluable 'behind-the-scene' tours of local contact centers, numerous networking opportunities, as well as a dynamic exhibit hall featuring cutting-edge technology and services.
About ICMI
The International Customer Management Institute (ICMI) is the leading global provider of comprehensive resources for customer management professionals -- from frontline agents to executives -- who wish to improve customer experiences and increase efficiencies at every level of the contact center. Since 1985, ICMI has helped more than 50,000 organizations in 167 countries through training, events, consulting, and informational resources. ICMI's experienced and dedicated team of industry insiders, trainers, and consultants are committed to helping you raise the strategic value of your contact center, optimize your operations and improve your customer service. ICMI is a part of UBM plc (www.ubm.com), a global events-led marketing services and communications company.