E-commerce is always evolving, and new trends are constantly emerging. Keep your finger on the pulse of the industry with IRCE @ RetailX.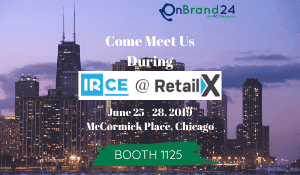 IRCE @ RetailX will take place in Chicago, June 25-28, 2019 at McCormick Place.
Visit theOnBrand24 team at Booth 1125.
IRCE is your one-stop-shop for all your e-commerce needs. This conference and trade show offers you everything your business needs to stay ahead of your competition, in one simple location.
RetailX will bring together three events under one roof: IRCE, GlobalShop and RFID Journal LIVE! Retail, and aims to be THE event for e-retailers and store designers that are reinventing themselves to address the ever-changing retail landscape.
OnBrand24 offers a wide range of e-commerce call center solutions for all your outsourcing needs. Don't forget to stop by booth 1125 to meet our fantastic team during the event.