Looking to Add Live Chat Software to your Retail or E-Commerce Site?
December 5, 2014 - For retailers and e-commerce companies, maximizing the value of live chat customer service involves several basic principles that make all the difference when you add chatting capability to your retail site.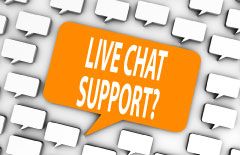 Follow these 8 Best Practices for Live Chat Support on your site:
Live Chat should be just that – live. Encouraging customers to use chat but providing no live response is a big turn-off. Announce on your site the hours that live chat is offered - and make sure you provide it.

Quality Assurance is critical.Good writing skill is not common. A healthy percentage of chat sessions should be reviewed by the Quality Assurance team to ensure several important metrics: good gram

mar, syntax and spelling, clear meaning, appropriate tone and the universal values of good customer service: such as product and service knowledge, courtesy, empathy and relevant responsiveness.

Live Chat should be easy to find. Be sure to place live chat on all your web pages. Make it easy to customers to access it. This will increase customer engagement and give your customer support chatters the opportunity to build customer loyalty, to up-sell and cross-sell.
Make it stand out. Besides putting live chat on every page, make it highly visible as well. Some companies have the chat button pop onto the screen, or slowly float across it. We recommend doing nothing that will interfere with the consumer's buying process. Put the button somewhat prominently in a top corner of the page. Make it visible without being annoying.
Avoid stock art buttons. Too many live chat buttons show a model wearing a headset. This undermines authenticity, which is a basic value of live chat – customers are interacting with a real person. If possible, use real pictures of the customer service representatives who do the chatting, or your company logo.
Training. It's mandatory that customer service and order processing agents selected to do live chat be tested and trained on correct chatting techniques. They should be instructed on creating a positive, upbeat atmosphere, and on using language that reflects your brand and personality. It's also important that they be specifically instructed on dealing with angry customers, on how to defuse situations, on turning frustration into customer loyalty.
Compare results. QA and account management should analyze chat sessions and compare the responses that different responses generate. Train you chatters on successful techniques. Distribute FAQ guidelines and ensure that your chatting customer service specialists follow them.
Establish chatting objectives. Gear your program around the results you want: customers who express enthusiasm and gratitude for the chat support they have experienced. As well as, customers who indicate an inclination to complete or add to a purchase; and customers who state how helpful previous chat sessions have been.
If you're still debating on whether or not adding live chat to your website will be beneficial, check out the '10 Reasons to Consider Live Chat for your Business' infographic by Provide Support.