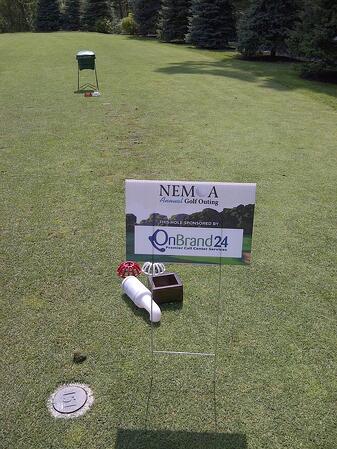 Forty-two companies, including OnBrand24, participated in NEMOA's (National Etailing and Mailing Organization of America) July 23 12th annual charity golf outing at Wentworth-by-The-Sea Country Club, Rye, NH.

Speaking as a participant and sponsor of the second hole (see picture), it was a great event at a great golf course – and an outstanding opportunity to meet new people. More importantly, we raised $2,385 for the American Cancer Society.

If you're thinking about taking part in next year's NEMOA outing, here's more information on the 2012 event. I also highly recommend NEMOA itself. It's a trade association founded in 1947, and it's one of the nation's most active multichannel merchant associations dedicated exclusively to the catalog/multichannel/e-commerce/retail industries.
NEMOA's mission is "Networking and Education for Direct Marketers" through educational conferences and the NEMOA website, which has links to member organizations, updates on industry news, job postings, and an active message board.
NEMOA member companies come from all across the U.S., Canada and Europe. And you don't need to be a member to attend a NEMOA event.
We hope to see you in 2013!

Mark Fichera, CEO
OnBrand24
Call Center Services
Beverly, Massachusetts