Premium Service Model at Lower Price Point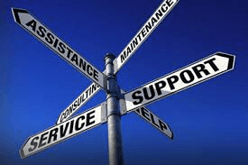 OnBrand24, a leading provider of domestic outsourced call center services, has announced the addition of a new "Semi-Dedicated" model to its portfolio of customer service options available to clients. The new service gives companies the specialized skills of dedicated customer service representatives at lower cost.
The Semi-Dedicated model is a variant on the traditional dedicated agent program, in which outsourced call center representatives work solely on one client program. These programs typically have either higher customer contact volume or require specialized knowledge and extensive training in the client's products, services and processes. OnBrand24's new Semi-Dedicated service is designed for companies that need customer service representatives with in-depth knowledge yet have lower contact volume.
"Our Semi-Dedicated customer service model is an important innovation in the call center industry that solves a common problem," said Mark Fichera, CEO and Owner of OnBrand24. "It's for companies that need the higher-level skills of a dedicated agent but don't have enough phone calls, emails and live chats to support the financial structure of the dedicated service model. For them, the Semi-Dedicated approach is perfect."
OnBrand24 has dedicated service clients in the technology, manufacturing, health care and retail / e-commerce industries. The company delivers services 24/7/365, so clients can contract for the Semi-Dedicated service any hours of the day, night or weekend. In addition to answering incoming phone calls and responding to emails and chats, Semi-Dedicated representatives also can make outbound calls to customers (informing them, for example, of special offers or new product offerings), monitor social media platforms and handle follow up mailers and other clerical work.
"In today's increasingly technical economy, specialized knowledge is increasingly in demand," said Fichera. "But many companies don't have the customer contact volume to keep a full-time specialist busy. The Semi-Dedicated model is designed for added flexibility in implementing specialized customer service. It ensures companies are covered by the right agent with the right knowledge."
For further information please contact:
Sales
OnBrand24
855-662-7263