Oct. 14, 2014 - OnBrand24 will be an exhibitor at the SOCAP International (Society of Customer Affairs Professionals in Business) 2014 Annual Conference, which will address The Customer Experience Journey as its central event theme.
This journey includes different components—from innovation to people—and involves how companies can create a coherent, valuable experiences that meet (and even anticipate) customer needs and interests, build loyalty and empower consumers. The customer care function plays a critical role in the customer journey.
Key strategic questions to be covered at the Annual Conference through sessions will include:
How do companies improve or refine the customer experience?

What does this journey look like within organizations?

What is the impact of innovation on the customer experience journey?

How is the customer experience journey changing the ways companies deliver consumer care?
Check out this great video on The Customer Experience Journey by SOCAP International.
This year's conference will be held Oct. 26-29 at The Broadmoor in Colorado Springs, CO and will feature nearly 50 exhibitors, including Five9, Salesforce, GM Voices – and OnBrand24.
Conference sessions will cover such topics as:
Internal Knowledge Management for Effective Real-Time Customer Service

Understanding the Customer Compass - The Value of Unfiltered Customer Feedback

The Innovative Agent Experience: How rue21 Drives Customer Loyalty

From Like, to Want, to Need to Love...The Social Consumer
For more information visit: http://www.socap.org/ConferencesEvents/
Founded in 1973, SOCAP International represents a global profession of best-in-class customer care experts across all industries. SOCAP is a member-driven organization committed to promoting customer care and customer engagement as a competitive advantage in business. The Association's members include vice presidents, directors, managers and supervisors of customer care and consumer affairs from top Fortune/Forbes 1000 companies as well as hundreds of business partner organizations. SOCAP provides the educational tools and professional resources to help its members drive business transformation within their companies. Additionally, SOCAP's exclusive network gives members access to thousands of customer care experts across the globe.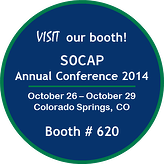 Mark Fichera, CEO
OnBrand24