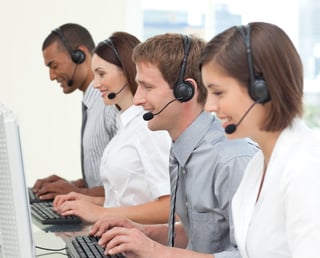 Let's face it - when outsourcing customer service, you are entrusting a partner to treat your most precious asset-your customers- with the utmost respect, care and professionalism. Creating an environment in a third party call center starts with having the right culture, DNA, and values to achieve this goal in hiring, training, and deploying resources to their partners. According to OnBrand24's COO Michael Moody, there are a handful of vital characteristics each team member must possess.
1. Dedication to Customers
The most important ideal that must be held by all team members, from the management, down is a dedication to customers, above all else. Team members need to genuinely care about the outcome of the customer's inquiries. With extensive experience, across multiple verticals, OnBrand24's management team has found that agents need to "take the customer's side", rather than just understanding their reason for calling. This comes exclusively with partnering with an organization that truly believes and trains with this as the mindset.

2. Ownership of Task
Agents should have a sense that they are responsible for the most acceptable outcome for the customer. Sometimes, this requires the representative to become creative in their response and solution. Customer service agents and management alike need to view the situation as not the agent or the customer's fault, but responsible for creating a positive outcome. There will be times when this results in extra time or money for the company. However, when comparing the cost of acquiring new customers vs. the lifetime value of a customer and improving those numbers, this usually is not a difficult decision.

3. Truth
Good businesses are usually known for being honest, transparent, and upfront with their customers. When customers are comfortable with the company and agents they are working with, they are more likely to trust that business with their money. For example, a customer may forget to use their discount code they mentioned at the beginning of the call, or realize they are eligible for free shipping. This may save the business a couple of bucks, but is the betrayal your customers will feel when they find out really worth it?

4. Problem Solving Skills
Agents should have the ability to quickly find a solution to any problem. This is first embedded in the agent skill set by a training approach unique to OnBrand24. It is the goal that the agents are trained and equipped with the knowledge, product literacy, and protocols of our partners by training on site of our partners, on site at our facilities, and through teleconferencing. The agent profile of success has shown someone who is able to find a solution to any scenario, but also do so efficiently. The ability to adapt to the scenario as it evolves is key to any successful customer service agent.

5. Using the Right Tone
No matter which vertical we are representing, communication with customers is the key to every interaction. To do so effectively, it starts with allocating the right agent temperament to the brand they represent. Second, it comes with the agent matching the tone of the customer. For example, when a customer is really cheerful, the agent servicing that customer should mirror the same attitude. Conversely, an agent being overly cheerful with an angry customer can come off as patronizing and potentially upset the customer further. In this scenario, the agent should try and match the cadence of the conversation, and speak with empathy and matter-of-factness.
Download our free E-Book on how to 'Drive Sales Through Great Customer Service & Customer Experience Management' today!