OnBrand24 and Barrett Distribution Centers Initiate Strategic Partnership To Support Growing Demand for Integrated e-Commerce Fulfillment & Customer Support Services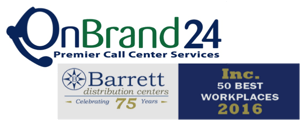 Beverly, MA and Franklin, MA - OnBrand24 Inc. and Barrett Distribution Centers Inc., announced a strategic partnership to provide call center and product fulfillment solutions seamlessly for mutual consumer packaged goods customers.
OnBrand24 is a full service call center solutions provider with locations in Beverly MA, Portsmouth NH, and Savannah GA. Barrett Distribution Centers, a leading third party fulfillment & logistics company based in Franklin, MA, services customers in the health & beauty, cosmetics, apparel and footwear, consumer electronics, food, consumer packaged goods and automotive parts industries.
"We have found that our traditional retail and ecommerce customers are increasingly looking for innovative fulfillment solutions that encompass not only the physical pick, pack and ship of orders but options to improve the entire customer experience from order management to delivery." stated Scott Hothem, SVP of Customer Solutions for Barrett Distribution Centers. "OnBrand24 complements our physical ecommerce fulfillment network with the highest level of customer care centers that provide phone, email and chat services which have become an increasingly critical link in the e-Commerce supply chain."
Both OnBrand24 and Barrett have been named to the INC 5000 fastest growing companies in the US among many other prestigious regional and national designations. Mark Fichera, CEO of OnBrand24, says "I am proud to recommend Barrett as a fulfillment solution to our clients as they are committed to client and customer service and have continued to prove themselves as an innovative leader in the fulfillment and logistics industry."
About Barrett Distribution Centers
Barrett creates customized e-commerce fulfillment solutions for a variety of industries including health & beauty, cosmetics, apparel and footwear, consumer electronics, food, consumer packaged goods and automotive parts. With deep experience in the direct to consumer and retail omni-channel sector, Barrett can help growing businesses meet these new challenges.
About OnBrand24
OnBrand24 Inc. is an omni-channel contact center dedicated to infinitely improving customer experience. With Headquarters in Beverly MA, OnBrand24 services over 120 clients providing inbound customer service solutions and outbound solutions across a variety of industries. A full-suite of services for voice, web, email, chat and social media support to improve agent efficiency, increase sales, revenue and customer experience.
If you would like more information about this topic, please contact Rhonda Rohtstein at 781-248-8265 or email at rrohtstein@onbrand24.com.